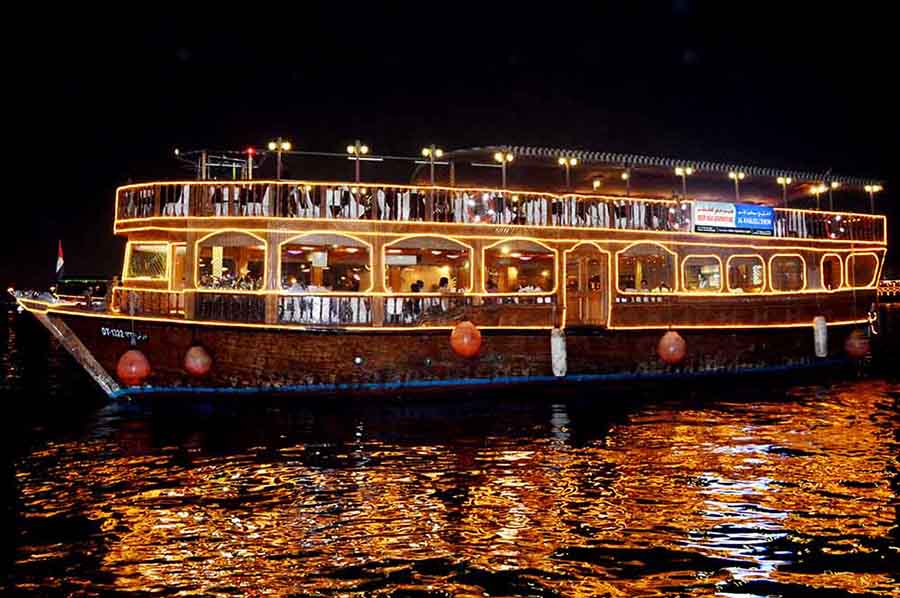 Dubai is a big and busy city with many different things for people to see and do. There are tall buildings and nice beaches, and the city has a lot of amazing things that people always find interesting. One of the most enjoyable experiences in Dubai is taking a Dhow Cruise along its picturesque waterfront. 
A Dhow is an old-fashioned wooden boat from Arabia that people used for fishing and trading long ago. When you go on a Dhow Cruise, you can sit back and enjoy the amazing views of the city's skyline and the pretty sparkling water of the Arabian Gulf. This blog post will take you through Dubai's waterfront beauty and the unforgettable adventure of a Dhow Cruise.
Introduction to Dubai's Waterfront Beauty:
Dubai has breathtaking views and stunning landmarks, but its waterfront beauty is truly something special. The city is surrounded by the glittering waters of the Arabian Gulf, and its coastline stretches for miles, offering plenty of opportunities for leisure and recreation. 
Dubai's waterfront has many different types of boats to explore, from fancy yachts to old-fashioned wooden ones. A Dhow Cruise is a popular option that allows you to take in the beauty of Dubai's skyline from a unique vantage point. In this blog post, we'll take you on an adventure through Dubai's waterfront beauty and explore the many delights of a Dhow Cruise.
Why is dhow cruise so Popular?
A Dhow Cruise is a traditional wooden boat used for centuries by Arab merchants for fishing and trading. Nowadays, these boats have been converted into floating restaurants that offer a unique dining experience on the waters of the Arabian Gulf.
People like going on a Dhow Cruise in Dubai because they can eat while looking at the beautiful views of the city's skyline from the water. The gentle sway of the boat, the cool breeze, and the city's glittering lights make for a memorable experience perfect for couples, families, and friends.
What type of dhow cruises you will get
You can choose from a dinner cruise, a sunset cruise, a sightseeing cruise, and even a fishing cruise. The dinner cruise is the most popular, where you can enjoy a buffet dinner while watching the city lights go by. 
The sunset cruise is great for people who want to see the city change from daytime to nighttime. The sightseeing cruise offers a guided tour of Dubai's landmarks from the water, while the fishing cruise is perfect for those who want to try fishing.
What about Food, Drinks, and Entertainment on the cruise
A Dhow Cruise in Dubai offers a unique dining experience, with a buffet dinner or snacks catering to various tastes. During the meal, you will be served a variety of foods from different countries and the local area. This includes Middle Eastern appetizers, grilled meat, seafood, and sweet treats. 
The drinks are typically non-alcoholic, but some cruises offer alcoholic beverages at an additional cost. You will experience the cultural dance with amazing music. This will enhance your cultural experience.
How to Book a Dhow Cruise in Dubai
Booking a Dhow Cruise in Dubai is easy, with many tour operators offering a range of packages to suit different budgets and preferences. For the booking, you will have two options one is online, and the other is a travel agency. It's suggested to reserve your spot early, especially during busy tourist times, to make sure there's space available. 
You can choose from various types of cruises and durations, and some operators even offer private cruises for a more exclusive experience. Make sure to check the inclusions and exclusions of the package, such as the menu, entertainment, and transportation to and from the cruise.
Other Waterfront Attractions in Dubai to Explore
Dubai's waterfront offers more than just Dhow Cruises and many other attractions. You can visit the Dubai Marina, a bustling waterfront district with a promenade, restaurants, and shops. You can also check out the Jumeirah Beach Walk, a popular spot for strolling, people-watching, and dining. Another option is the Palm Jumeirah Boardwalk, a scenic walkway that offers views of Palm Jumeirah and the Dubai skyline. 
Book Cruise: https://dhowcruisedubai.org/
Conclusion:
Dhow Cruise Dubai offers a mix of culture, food, and beautiful sights you won't want to miss. It's a unique way to explore the city's waterfront and landmarks and learn about its rich history and traditions. Whether it's your first time or you've been to Dubai, a Dhow Cruise is an amazing experience you'll always remember.